A Community-Supported Food Pantry

We serve: St. Croix Falls, Dresser, Cushing, Centuria and portions of Balsam Lake and Taylors Falls.
We are located at: 809 Pine Street, in the SCF Industrial Park, next to the American Legion Hall (right at the foot of the water tower). See the photo and link to map.
We are open: Monday mornings from 9 to 11 a.m., Wednesday afternoons from 3 to 6 p.m. and Friday from 9 to 10 am.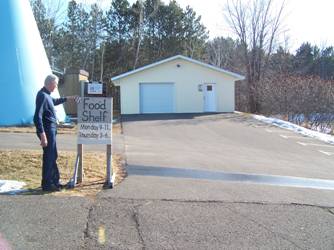 To pick up food:
When you come to pick up your food, please park on the street, and take a number card from the sign at the end of our driveway. When that number appears by the door, move your vehicle to the driveway and come in.  We request that first-time clients bring proof of identity and residence.
To drop off donations:
One side of the driveway will be open for people bringing donations. Please drive right up to the building and come in. We will help you unload if needed.
Donation Suggestions