"A Joy of Harvest"
"Those who sow in tears will reap with songs of joy. He who goes out weeping, carrying seed to sow, will return with songs of joy, carrying sheaves with him."
(Psalms 126:5-6)
 Last Sunday, we had Laity Sunday, celebrating our ministry in 2023. What an incredible moment! What a grateful moment! I am proud of all of you, faithful servants of God, Wonderful minsters of God! When I heard all of our excellent speakers on Sunday, I praised God in tears, "O Lord, you made things happen. Thank you, Lord, you did it for us." And, these scripture verses came to my mind, "Those who sow in tears will reap with songs of joy. He who goes out weeping, carrying seed to sow, will return with songs of joy, carrying sheaves with him" (Psalms 126:5-6).
We came through many difficult situations, such as Atlas' financial crisis, a VBS plan without money and people, and nominating new committees. However, we also experienced every single moment God was there for us. God guided us to support Atlas as one of the three churches in one parish; God provided VBS with a grant, volunteers, and kids who showed up; and God gave us the wisdom to see potential committees for God's church ministry in 2024. We sowed seeds in tears together and got a joyful harvest in God's ministry. Thanks be to God and all of you!
I compare my ministry to gardening. Every year, when I start gardening, I joyfully plant or sow seeds, expecting a good harvest. The expectation of a good harvest always makes me overcome hard work, such as cultivating soil, pulling out wild weeds, and watering the garden every day. Meanwhile, there were moments when I saw wild weeds grow faster than the vegetables I planted, when wild animals attacked the garden, and when I found all the plants were taken or destroyed by anonymous animals. However, I never gave up. I sowed seeds again, putting up a new fence around the garden, expecting a good harvest again. However, if it happened again and again, one may want to give up. "Okay, no more gardening."  Do you agree? Can you give the ministry up?
I had a moment when I was almost disappointed. I couldn't get the seeds that I wanted last year because we had an early snow. Before seeds were produced, snow covered the plants and they froze. But I had some remaining seeds from the previous year. This year, I sowed the remaining seeds with worry, thinking they may not make any harvest for me. So, I experienced that we may sow seeds with worry as well as with a joyful expectation of a good harvest.  This is similar to how we handle our ministry, with joys and concerns. However, we move forward, expecting God to help us.
The Psalmist might experience sowing the last remaining seeds, with worry wondering if these seeds would work out because if not, he might have no food for a year. However, there was nothing he could do except sow the seeds, especially on the Israelite's dry land, where he couldn't get water for the plants. After sowing the seeds, he, perhaps, just prayed to God while weeping. Except for praying, he didn't have anything he could do for the seeds. However, prayers are the most powerful workers among the things we can get. The Psalmist also had experienced that the seeds, which he has sowed through tearing and weeping made good harvest. Finally, he praised God, "Those who sow in tears will reap with songs of joy. He who goes out weeping, carrying seed to sow, will return with songs of joy, carrying sheaves with him." He knew God made things happen for him; even though he couldn't make it, if he prays, God makes things happen.
Like this, we may face a moment we can't do anything except pray. However, remember praying is the most powerful worker. Through our prayers, God makes things happen for us as long as we don't give up. Let's move forward, sowing seeds of joy with prayers for all generations!
Blessings,
Pastor Jenny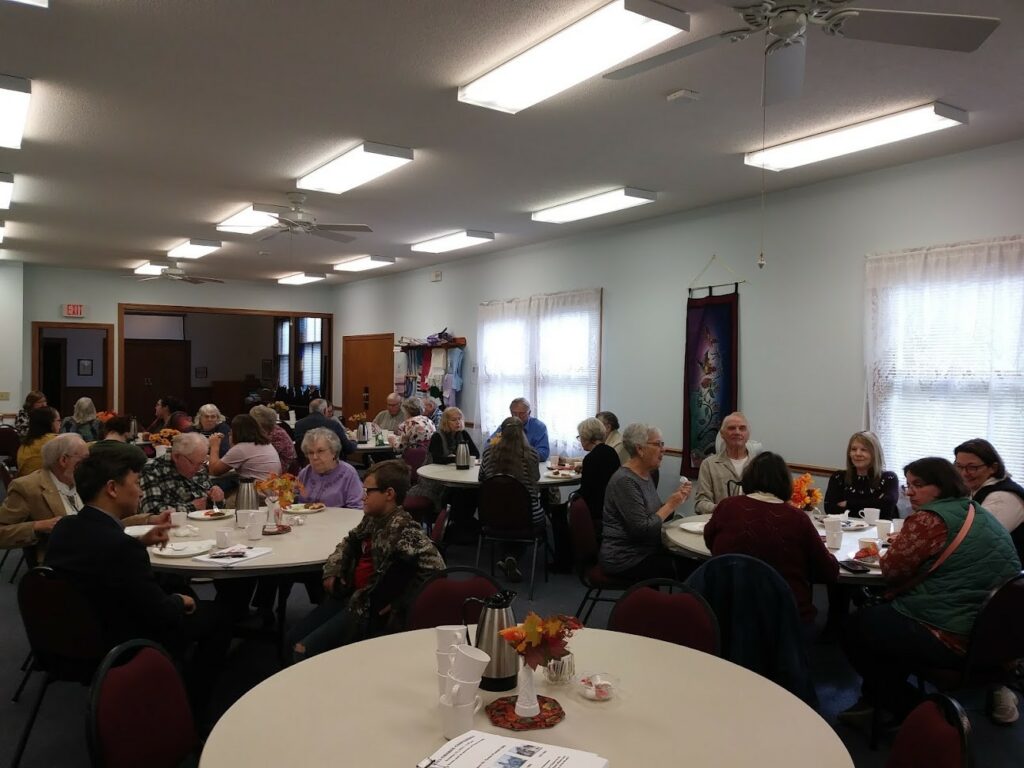 10-22-2023, Fellowship after the Joint Worship Service on Laity Sunday