United Methodist Women (UMW)
Organized for Mission with primary support given to children and women worldwide.
Our main topic of study for 2019 will be "Living Simply" to follow through with our church's "Treasures" study, financial campaign theme and a UMW mission study "What About Our Money". We will be gathering ideas for reusing, repurposing, reducing waste, organizing our homes, recycling and living in harmony with our planet. Also, to tie in with this year's 150 Year Legacy Celebration, we hope to resurrect some of the depression/war era recipes and practices of those women who have gone before us. Bring your ideas, in writing, to the meetings. We also welcome ideas from non-members. Place them in the UMW mailbox at church or send them to LuAnne Martell at lbmavon@gmail.com. Hopefully all of the submitted ideas can be compiled into a booklet.
On February 13th we had a cleaning crew of five to work in the kitchen. Thank you to all who came to help. When I arrived back at church at 4:00 pm to bake pizzas for the Go Fish Kids, it felt good to walk into a newly cleaned kitchen. We still have some silver to clean and it has been pointed out that there is brass to clean from the church altar so I'll try to organize another cleaning day in the spring. At noon we quit for lunch and fellowship. Kayleen brought her delicious Chicken Taco Soup and fresh bread to supplement our bag lunches. Pastor Ran joined us for lunch and the meeting that followed. We planned the menu and worker shifts for the March 13th Blood Drive. Please (all congregation) take a look at the church clipboard sign up sheet to see how you can help. We also talked about the 150 Year Legacy Celebration in Eau Claire on March 23rd. Information about the days activities and registration are in the February "Weaver" newsletter that I've pinned to the bulletin board. A great deal of work has gone into planning a great day. Please consider attending. UMW is willing to help with a hotel room for those who want to drive down on Friday, March 22nd. For mission giving, our unit will be donating to the church general fund in conjunction with the church February mission and to the Youth Fund for their summer trips. Members were encouraged to read books from the UMW Reading Program. Books from 2014-2019 apply towards completing reading levels this year. Titles can be found online, search UMW Reading Program and click "all books".
The next meeting will be at 1:00 pm, at church, on April 10th. Pastor Ran will be speaking to us about the Butterfly House in St. Croix Falls. We will have a "prayer bead" craft. Valetta will serve refreshments.
LuAnne Martell,
UMW President.
All women of the Upper St. Croix Parish are welcome!
+++++++++++++++++++++++++++++++++++++++++++++++++++++++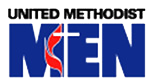 A men's group committed to:
Support, Fellowship and Service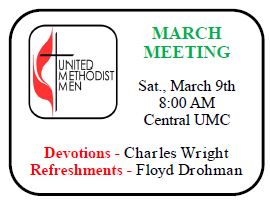 All men are welcome!
Central's United Methodist Men's Group offers support to the church by:
-Moving tables and chairs as needed
-Caring for the church's property
-Reaching out to neighbors in need
-Supporting church fundraisers
-Hosting the Easter breakfast